Wow!  So it's been awhile since I've posted anything.  Figured I would write something that has been on my mind.
So about 6 years ago, I would have a get together and celebrate my birthday with a group of friends, and all of my friends would ask me what I would want for my birthday, and at the point in life – I really didn't want anything nor need anything, so I would tell my friends to go donate to a certain charity, and my friends did just that.  The year after, when it was the beginning of January, same question arose, and then it occurred to me – why not just have a charity party. A close friend of mine from Harvard, Maneesh, who happens to have his birthday the day before mine agreed with me to throw a big bash.  Now each year, this bash has grown larger and larger in size, and now this year – it happens to be only 2 days away (wow – that's close by..*getting nervous*) – happens to be the largest we've ever done.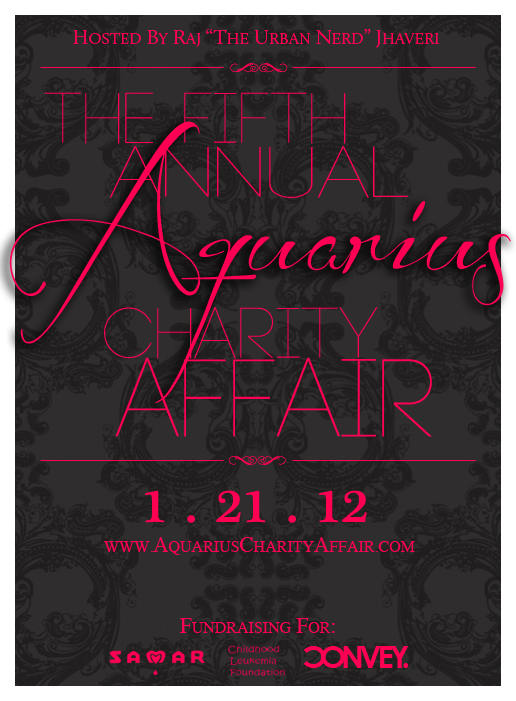 I started planning this all the way back in October, knowing that I wanted to do something bigger and different, and was trying to figure out how can I top last years (I did it at Belmont Lounge).  I've been only living in NYC for a little over a year, but I was confident that I knew enough people in order for the word to spread (plus being known for the viral Kati Roll Parody video was a plus!).  My expenses were high, and I was really close to just paying everything out of pocket, until a friend told me that – the event is large enough to get sponsors.  With all the planning, logistics, catering, sponsors, guest lists, design, etc. – I knew I needed help and I needed an amazing event planner.  Luckily, I found an amazing person, Rhea Ghosh, who if it wasn't for her – this event would not have really happened the way I wanted it to be.  Usually, I give everyone a chance to prove themselves as an asset to me in regards to anything "Urban Nerd" related, and she really, really proved herself.  She did an amazing job, and I highly recommend her if you need an event planned from anywhere in getting sponsors to fund your event to marketing strategy.
Another thing that has been on my mind is that the feedback I have received was unimaginable.  In the beginning I was worried that we wouldn't get enough people, but we have over 780 RSVPs (including waitlists) all thanks to everyone spreading the word about it (my wonderful friends in the entertainment industry – Melanie Kannokada, Payal Kadakia, Rohan Sheth from MTV, Jay Dabhi, DJ Insomnia, DJ Bornswift, DJ Karma, DJ Flawless (aka Waseem Stark),  and of course the whole UrbanAsian.com Crew!  Also, really big thanks to Dhaval Bhanusali, he organized the whole SAMAR bone marrow drive for the event, and definitely got the whole AAPI community involved.  He also helped out on small things here and there that is actually crucially important to the event.  Now I have to figure out how is everyone going to get in when the venue only holds 500 people…LOL!
Another thing, this event would not have happened if it wasn't for the sponsors who believed in the event!  Special thanks goes out to: Shaadi.com, Luv The World, Luxemi, and Convey.  Also, a very special thanks to the Indus Tuesdays Team, especially Manny Singh.  If it wasn't for him – I wouldn't have been able to book such an amazing venue.
Wow – I can't believe it's two days away.  I'm nervous, but also anxious and excited.  I'm not sure people realize how hard it is to throw a massive free party, and all the planning that is involved with it, but in the end I hope we raise a lot of money for the charities, so it will be worth it. =)
---